As I watched the last commercial flights touch down, I had no idea that one of the strangers standing on the roof with me would dramatically change my life and my relationship with Concorde. Like me, Ross Mallett had watched the events of the summer with dismay, never really believing that Concorde would be grounded with no successor in sight. After that day, he organised a petition to keep a Concorde flying for special occasions and air shows. When Alpha Foxtrot (G-BOAF) made her final flight on 26 November 2003, Ross and a couple of friends (Jill and Peter) raced her to Filton and handed out fliers. Thus began the Save Concorde Group (SCG).
Meanwhile, I thought I'd resigned myself to Concorde's demise and expected just to carry on as usual – but the beautiful bird still cast her spell over me. I could not forget that exquisite shape soaring across the sky. In the press and on TV, people lamented that, for the first time, history had taken a step backwards. I agreed. The strength of my feelings surprised even me – it felt as if the world had gone wrong in some fundamental way. I found myself talking about Concorde with friends and strangers, even (bizarrely) as I was cantering across Exmoor on a riding holiday. The feeling grew in me that I couldn't rest until I'd tried to put this right.
Joining the campaign
My first contact with Save Concorde came via the French concorde-jet website, on which someone had posted a link to Ross's petition. Shortly after signing it I received a message from SCG member Rich Newton, inviting me to get involved "at the sharp end". I couldn't help noticing the words "huge undertaking" elsewhere in his message, but volunteered anyway.
In January 2004 I went to my first SCG meeting, where I met Ross, Jill and a very interesting gentleman called Ian Kirby, who had been the senior flight engineer on the Concorde fleet. I learned more about Concorde in that one evening than I had in my whole life. I was inspired by his fund of knowledge, and by the enthusiasm of the SCG team. That night, I did my first job for them – designing the SCG logo.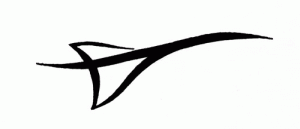 The SCG logo
My idea was to create a glyph, like a Chinese character, to express the essence of Concorde. I got the idea for this shape from a picture of an Air France aircraft taking off from JFK.
From there, my role grew, as I took minutes in meetings, helped to write press releases, and worked at air shows as we circulated our petition to get Concorde flying again. We met a fascinating range of people who had been involved with the aircraft – former pilots, engineers and cabin crew; someone who had helped to machine Concorde's skin; a courier who still glowed at the memory of flying to New York and back in one day, and making it back in time to meet his friends in the pub. I also started to discover new sides to my friends and family. One friend who lives near me used to perform in Christmas cabarets on the Concorde tours to Lapland. One of my relations had worked at Filton.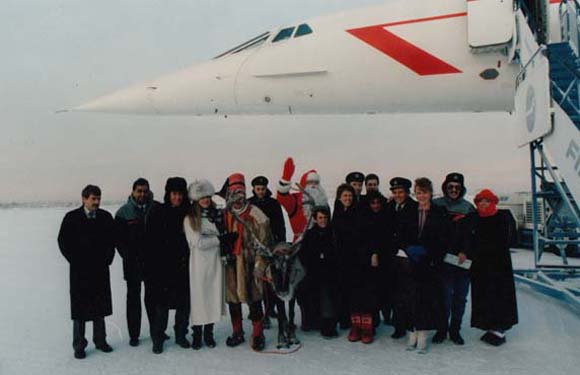 A happy Christmas
The shivering members of the Concorde Lapland flight crew and cabaret assemble under Concorde's nose at Rovaniemi, Finland. My friend, who gave me this photo, is on the far right of the image. They also have two very special guests with them! 
The air shows were exhausting but fun. We had to start insanely early in the morning; I would lever myself out of bed at 5am and wait at the side of the A13, close to the Blackwall Tunnel, for my friend Perry to pick me up. The whole SCG team would go non-stop all day, even the children in our group doing their bit. We lived, breathed and talked Concorde constantly – even if, in my case, some of the facts got lost in the mix. (I remember telling one young boy that Concorde travelled at "23 miles a second" – which would have been a big ask even for the Starship Enterprise! Makes me cringe to think of it now …) For some shows, we camped near the air field; I remember one early morning, in a field near Fairford, lying in my sleeping bag on the grass, and laughing to myself at the gulf between Concorde's pampered passengers and our tiny band of scruffy enthusiasts.
Today, SCG is still going. We took our campaign to MPs, TV and radio, and to British Airways and Airbus. We delivered a copy of our petition to Downing Street. The challenge involved in returning Concorde to flight would now be monumental, but SCG are still hearing from people who would love to see Concorde back in the air and continue to urge them on.
However, in 2015 I bid my SCG friends farewell and began a new project. With my friend Nigel Ferris, a volunteer at the Concorde display at Filton, I began a free on-line magazine called Mach 2. With contributions from former Concorde pilots, cabin crew, and engineers, and others who worked with and loved the aircraft, we showcase the technical and historical features that made Concorde unique and admired by people all over the world.