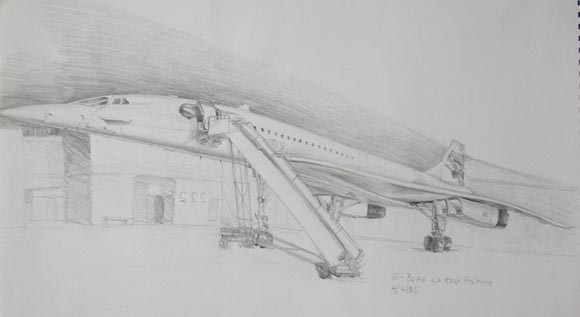 First sketch of G-BOAA, December 2005
G-BOAA (Alpha Alpha) has been my best "teacher" – I travel up to East Fortune about once a year (usually by overnight coach, a tortuous journey of 8 hours), usually near her "birthday" – 5 November, the anniversary of her maiden flight. I also made a special visit on 21 January 2006, to commemorate her first commercial flight, which inaugurated the British Airways Concorde service. Unbelievably, Alpha Alpha and I were the only ones to mark this historic day.
Nose leg detail >>
I like to spend a whole day with her, trying to capture her shape and analysing the complexities of her structure. I have spent whole days just studying the wings or the landing gear. By plodding through this detailed work, I hope to absorb this knowledge and use it as a basis for producing more expressive as well as accurate pictures. I like to think of Alpha Alpha as my sensei, guiding me to deeper understanding.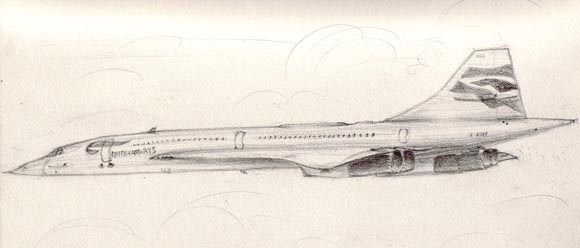 G-BOAB in flight – in my dreams!
While the other Concordes have been dispersed to museums, G-BOAB has been left as the sole survivor at Heathrow. She still has a maintenance crew who clean her and watch over her with dedication. She also has me – I travel up to Heathrow as often as I can, for sketching and just to spend time with her. I did this sketch while she was by the place where the aircraft crossed the road from the maintenance hangar. I couldn't see her legs so I left them out, and added some clouds so that she was "flying".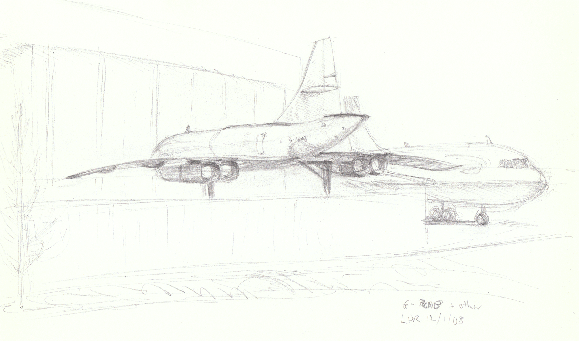 G-BOAB behind maintenance hangar, 14 January 2008
I sometimes attract the attention of security or the men in blue, one of whom accused me of being a "Concorde stalker"! I wouldn't wish to give anyone any security headaches, but I am still one of many people concerned about Alpha Bravo. I have appreciated the chance to see the aircraft and study her up close – like her sister Alpha Alpha, she is a very patient teacher. For years now, Alpha Bravo has been moved around the airport – but the Concorde community was relieved to learn that she will now be preserved at the airport, as a teaching aid for the next generations of engineers.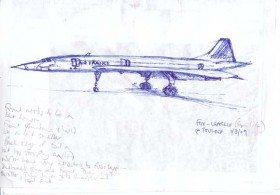 Pen sketch of Air France Concorde F-BVFC (Fox Charlie)
I did this rough, scribbly sketch of Fox Charlie at Toulouse, where she was a "guest of honour" at the French Concorde enthusiasts' event on 2 March 2009, to mark the 40th anniversary of the first French Concorde flight. The event, put on by Cap Avenir Concorde, was fascinating, with speakers including former Chief Test Pilot André Turcat (now sadly deceased), Flight Engineer Michel Retief, Alexandra Jolivet (who looks after Concorde Sierra Delta at the Musée de l'Air et de l'Espace, Le Bourget), and a selection of other pilots and engineers, including three of the Concorde team from British Airways.
I wasn't the only artistic person there – I met a French guy called Michel who had done this fantastic painting on the bonnet of his car.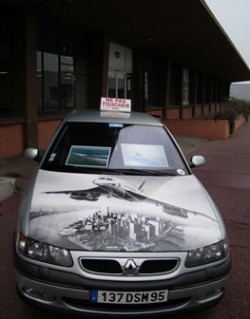 Michel's Concorde car >>
Fox Charlie also did her bit in helping me understand. I had often struggled with trying to draw Concorde's wings – the kind of graceful ogival sweep that Hogarth called "the line of beauty". I think with the British Concordes, I had never been able to get back far enough to see clearly. Fox Charlie was a great help in this respect, sitting patiently as I analysed all the complex twists and curves until I felt I had finally "got it".
I also attended the commemoration of the first British flight, at the Royal Aeronautical Society, with two friends from Save Concorde. Although I confess much of the discussion went over my head at these events, because of both the language barrier and the technical aspects, I gained great satisfaction from getting a sense of how these men's minds worked, and I felt it helped me understand a little more about why Concorde is the way she is.