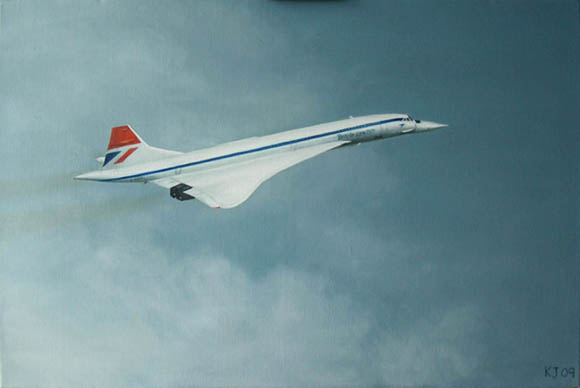 Glad confident morning (2009)
Here, G-BOAA is shown in the first Concorde livery. I wanted to catch the spirit of freshness and optimism as Alpha Alpha launches herself into a clear sky, in the "glad confident morning" at the start of Concorde services in 1976.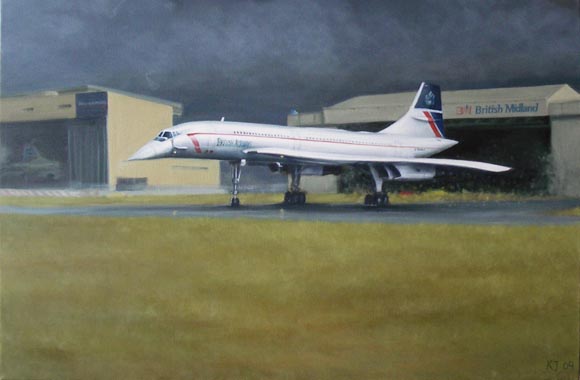 The flagship (2009)
For several years, I have worked for SCG at air shows, to help keep Concorde's name alive. One thing I have heard, especially from old Concorde hands, is that the Landor livery was their favourite colour scheme for the British fleet. As a mark of respect to them, I have painted the "flagship of flagships", G-BOAC, about to turn onto the runway and lift off from rainy London for another burst of speed and adventure.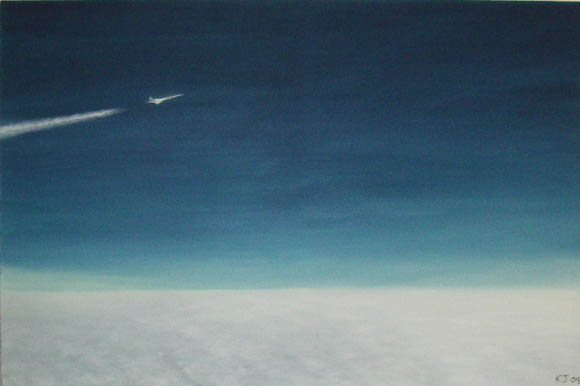 Blue heaven (2009)
While flying to Toulouse for the French event to mark the 40th anniversary of the first flight, I looked up into the deep blue sky, and wished I could have seen Concorde soaring above us. This picture shows my ultimate dream – that, one day, a Concorde would return to where she belongs, perfectly poised above the curvature of the earth.
Highlights
My Concorde/UN painting, Un Souvenir de l'Avenir, went on show in London at the Guild of Aviation Artists 2010 exhibition, at the Mall Galleries, from 19–25 July. It was SOLD!
My Concorde/Landor painting, The Flagship, went on display in Bristol, at the BAC 100 exhibition, which was held during 2010 to commemorate the 100th anniversary of aviation in Bristol. An exhibition of BAC-related work by members of the Guild of Aviation Artists was held in the Whittle Hall at the Rolls-Royce Patchway plant, on 3 July 2010.
The Guild works were due to move to Bristol's City Museum and Art Gallery, but unfortunately this exhibition was cancelled. However, The Flagship was selected to hang in the Guild exhibition at the Flight Safety International simulator centre, at Farnborough, where it remained from 2010 to 2016.
My painting of Alpha Alpha, Glad Confident Morning, was displayed at the Guild of Aviation Artists 2012 exhibition. It remained unsold but can still be seen on the GAvA site.
I have more ideas and paintings in the pipeline – I haven't finished with the big white bird, not by a long way. And I have also branched out to paint other aircraft – you can find some examples of these on my Gallery pages. In addition, please feel free to visit my Posts to see what I am working on now!