In a sense, there was never really a time "before Concorde" for me. The first time I ever saw a Concorde was in one of my brother's books, when I was about seven. This would have been in 1974 – before the aircraft had even entered service. On the opposite page was the Tu-144, the Russian "Concordski" – which, the book breezily assured us, would also be a familiar feature in our skies before long. That was then . . .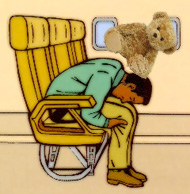 A few years later, my parents moved to Dubai, and my brother and I became unaccompanied minors, travelling to boarding school among packs of expat children. How the flight attendants must have dreaded seeing us lot arrive – we would be corralled down the tail end of the plane, where the air was thick with bad language and low-flying teddy bears.
Hazards of flying economy class >>
As we trundled around Heathrow in our TriStar, I would peer out of the window for a glimpse of one breathtaking, futuristic shape above all others: Concorde.
I spent the rest of my childhood at school in Dubai. As I doodled through lessons, sketches of Concordes and VC10s kept bizarre company with ponies and flowers in my files. Once I'd started university, I would return to Dubai for vacations, dragging my loads of books and papers with me every time. I was used to Heathrow by now, but never lost the thrill of flying. And I still kept my eyes peeled for a glimpse of Concorde.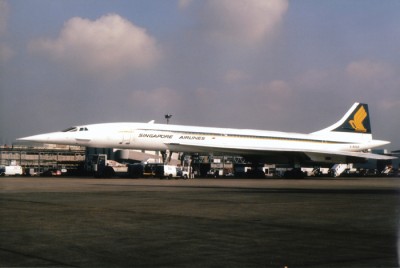 Exotic bird
I remember passing G-BOAD once as a child, and seeing the Singapore Airlines livery on her side. During the late 1970s the Concorde flights to Singapore used to stop in Bahrain and travel down the Gulf, and my parents still recall hearing the sonic boom over Dubai. (Photo: Stuart H. Bourne)
Just another London girl
I settled in London to begin work as a book editor. In my spare time, I began producing pictures of people's horses and pets on commission.
Sam
This was a commission that I did for a friend at work.

Jupiter and Indigo
There were lots of girly pony pictures – like this one, from a photograph of two horses that my friend and I rode in Dubai.
I loved drawing animals from life, especially horses, and trying to capture their movements. I used to go sketching at the Royal Windsor Horse Show – and while I was watching the horses, occasionally I'd be lucky enough to spot Concorde as well, doing her own show in the sky.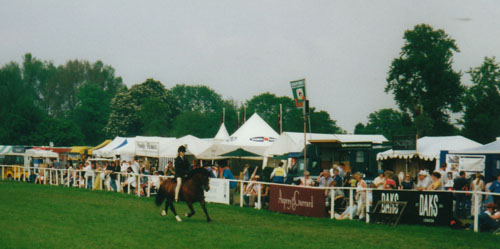 Royal Windsor Horse Show, 2000
You should just be able to see the delta-shaped smudge at the top right of this photograph!
I was perfectly happy as an animal painter, but then a series of events brought Concorde back into my world more strongly than ever.