Towards the end of the 1990s, several things happened to set me on my present path. First, I discovered Concorde on the internet. In the French group concorde-jet.com I found people who were just as passionate about Concorde as I was. The British group concordesst.com gave mind-boggling amounts of technical information, as well as fabulous pictures and tips on where to see Concorde if you went plane-spotting at Heathrow. (I never did get to see a take-off from the Pink Elephant car park, alas …) There were also wonders such as footage of the Tu-144 flying as part of NASA's High Speed Research (HSR) programme. (Video clips of these flights can be found here.)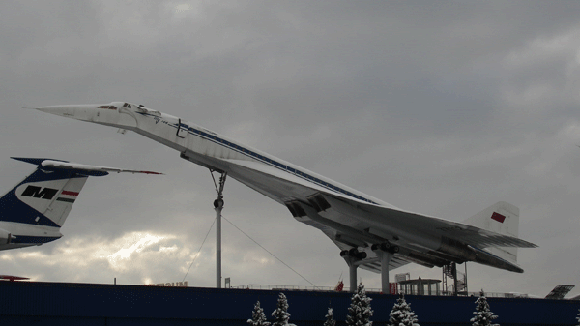 Snow-bound at Sinsheim
This is the closest I have ever got to a Tu-144: aircraft no. CCCP 77112, displayed on the roof of the Auto und Technik Museum at Sinsheim. 
Intriguing glimpses
I was working near Leicester Square, and happened one day to walk past a small photographic gallery near my office. My attention was caught by the poster on their door. It was the first time I had seen an exhibition devoted solely to Concorde. I went up the stairs to a small room filled with what looked at first like someone's happy snaps. Then I looked and read a bit more closely, and found out what the photographer, Wolfgang Tillmans, was really saying in his work.
He presented images that seemed ordinary and banal – until you looked past the nondescript houses, streetlamps and sagging telephone wires to a patch of sky with a mysterious delta shape, like a spacecraft from the future that had slipped through a wormhole. Sequences of shots showed the aircraft approaching, growing more distinct, until the whole frame was filled with a breathtaking image of Concorde. Tillmans went on to win the 2000 Turner Prize with one of these images, and later, when the aircraft was retired, wrote a wonderful tribute to the "utopian idea" of Concorde, in the Guardian newspaper. I bought the book that accompanied the exhibition, and still enjoy looking through it; this book, simply titled Concorde, is available on Amazon.
Then, in 1998, I bought my first flat, in the East End of London. An ex-council tower block might not be everyone's ideal home, but it was perfect for me. From my eyrie on the 10th floor, I could see right across London. To my joy, I was able to watch the Concordes coming in for their evening approach to Heathrow. A couple of minutes before they were due, the skies would clear of other aircraft – then Concorde would soar in a graceful arc over south-east London, passing behind Canary Wharf, and treating me to the crackling roar of her engines as she disappeared into the city haze.
A perfect summer evening
This is what I was privileged to see every evening, as I stood on my balcony to enjoy the show. I used to look on the internet to find out what time to expect Concorde, then hurry out to wait for her. Breathtaking, every time.
For several years I had been working as a book editor for Dorling Kindersley, and now my work brought me even closer to the object of my fascination. I was given the chance to edit the in-flight first aid manual for British Airways, and put my all into the project – both for the sake of the airline and (secretly) to feel a connection with Concorde. I understand the manuals were placed on every aircraft in the fleet, so I think I'm right in saying that my work has travelled on Concorde, even if I never did!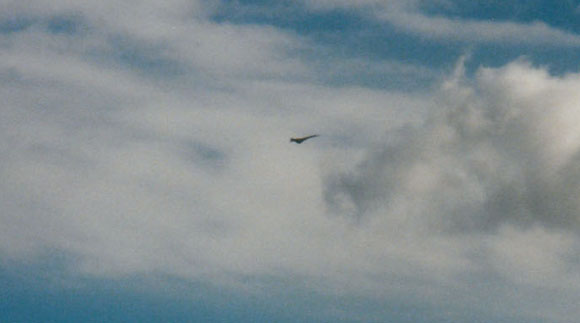 Concorde over the Thames
The riverbank at Canary Wharf eventually became another favourite viewing place for me. This photo was taken on a lovely day in summer 2000. Tragically, a few weeks later, the unthinkable happened at Gonesse and 113 people lost their lives.